Our internship placement services are quality guaranteed. We don't place our clients at random companies just to get the job done.
We select the best-matching host company so you get relevant experience in your field.
We provide support before, during and after your Internship to help you secure employment. If you don't get a job with your host company, we help you to get job interviews and a job offer through our Career Coaching Program.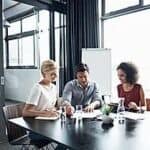 We have partnerships with over 500 companies in a range of industries such as Engineering, IT, Accounting & Finance and Science. Your Internship Coordinator manages your case and liaises with multiple companies to find you the best possible internship placement as soon as possible.
First, we create your brand-new internship resume and LinkedIn profile. Next, we prepare you for upcoming internship interviews.
After your Internship Preparation, we arrange interviews for you to meet suitable host companies in your industry.
After your interview, if you and the host company are happy, we finalise your enrolment and then you start!
We provide ongoing support during your Internship to ensure you are learning and getting the right experience to enhance your career.
If you don't get a job with your host company, we help you to get employment through our Career Coaching programs after your Internship.
With no local experience, I experienced a lot of push back from companies. I spoke to Naren who advised me on changing my strategy. I took up his program and glad I did. Professional, kind and he knows how to coach. I got my first job in 10 weeks."
Seir
APAC SALES DIRECTOR
Thanks to Career Success Australia I got into a good IT internship with a growing finance and tech firm in the city. I worked hard and got offered an FT job as a BA. Thanks Naren and team for helping me!
Ayantha
BUSINESS ANALYST / MELBOURNE
Career Success Australia helped me find a wonderful internship at a major finance company in Sydney. I worked with senior finance staff. and am pleased to say they offered to keep me for an extra 3 months on contract. This wouldn't have been possible without the extraordinary effort by the Career Success Australia team.
Stanley
FINANCE OFFICER
I tried for many months on my own to get interviews and a more senior job. I had one interview after so many applications. Even with Australian experience, I found it tough. The Career Success Australia team turned my situation around. They helped me with every aspect from resume to cover letter and LinkedIn. I did well in my last interview and they offered me the job which I have been in for 3 months now.
Anu
PROCUREMENT / MELBOURNE
Even though I didn't get the job from my internship host company, the experience was excellent and has helped get my first engineering job in Australia. Thank you Naren and Career Success Australia!
Brijesh
NOC ENGINEER
With two masters degrees from Australian universities, it was still very hard to get interviews until I contacted Career Success Australia. They arranged my internship and helped me with my job search after. Now I work in Canberra at one of the big and best Engineering consulting firm in Australia. Naren has my highest recommendation.
Arcade
CIVIL ENGINEERING GRADUATE / MELBOURNE